STEK Dynoshield
The film with the highest clarity on the market today. It protects your vehicle's paint from unsightly damage and maximizes resale value. Some of its features include Self Healing, Hydrophobic Top Coat, Stain Resistance and Unmatched Optical Clarity.
DYNOshield provides you with unparalleled top-coated paint protection film technology for those seeking the best-performing film on the market. Our nano-glass top coat is bonded to the film at a molecular level during manufacturing virtually eliminating the need for waxes or after-market top coatings. DYNOshield is unique in the market because of STEK's combination of an extremely hydrophobic top coating plus self-healing properties for correction of light surface scratches. Our top coat combined with UV-resistant anti-yellowing adhesives results in unmatched clarity and gloss plus improved puncture resistance. DYNOshield – the best automotive paint protection available from one of the worlds' leading paint protection film manufacturers.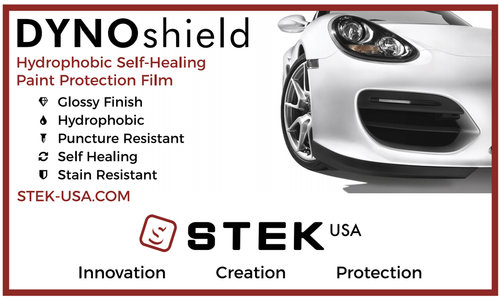 Your vehicle has a few select areas which are deemed "high impact." Our most popular packages include the front bumper, hood, fenders, and mirrors. People looking for extra protection will typically add on rockers, headlights, door edges, and door handles for maximum protection. Pretty much every painted surface on the exterior of your vehicle can be wrapped with STEK clear bra. The choice is yours.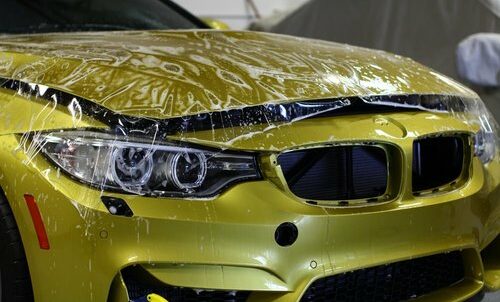 STEK Dynoshield offers best in class clarity, self healing, puncture resistance, stain resistance and an infused hydrophobic top coat, STEK HYDROphobe. All of this amounts to the best protection for your factory paint from rock chips, wash scratches, bird droppings and other exterior contaminants. We've done extensive research and the choice is clear. STEK looks and performs above the rest, if you want the clearest, glossiest paint protection film on the market there is no other option.