Paint Protection Film
There are many different names for this film that protects from rock chips and scratches: Clear Bra, Clear Shield, Clear Mask, Invisible Shield, Clear Wrap, PPF, Scratch Protection Film, etc. The most common names are Paint Protection Film and Clear Bra. To summarize, these films exist to keep your vehicle looking better for longer. Some folks will try to claim that ceramic coatings increase chip and scratch resistance, this is false. The only way you'll prevent chips and scratches is putting a film over the vehicle that will absorb the impacts from road debris.
Here at FTA Detailing we offer 3 brands of Paint Protection Film. We are certified in the installation of these products and hold our installers in high regard for providing clean, quality installations to our clients. Each brand of PPF has it's own strengths, and we've done lots of testing to make sure the brands we work with offer nothing but the best for our clients.

STEK Dynoshield
STEK revolutionized the PPF industry with the creation of their Dynoshield paint protection film. Using a patented manufacturing process, they bonded a nano-glass top coat to the film virtually eliminating the need for waxes and top coatings. Dynoshield is our favorite protection film because of it's high gloss and minimal texture. It is by far the clearest, most invisible film on the market today.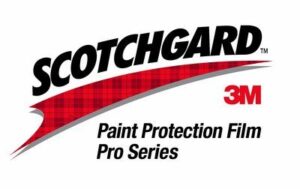 3M™ Scotchgard Pro
3M™ is the company that invented Clear Protection Film. It was initially developed during the Vietnam War to protect helicopter rotors. 3M™ built upon this technology and started using it on racecars eventually achieving enough clarity for nearly invisible installs on road cars.

FlexiShield
Manufactured with a higher standard of adhesive and a thicker high-grade proprietary top-coating composition than most of our competitors, FlexiShield Paint Protection Film is guaranteed to look and perform like the day you install it for at least 10 years of continuous use.